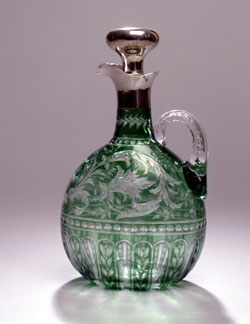 Jug #: 604 Origin: America/England
Date:1897
Artist/Maker: Joshua Hodgetts
Type/Style: Cased Glass

A silver mounted intaglio cut overlay Claret Jug (green on clear) by Joshua Hodgetts at Stevens and Williams, Circa 1897. The silver mount to the neck and stopper are marked "sterling" and were almost certainly applied on in the United States where Steven and Williams exported from England to a select number of manufacturers and retailers such as Tiffany and Gorham. Stevens and Williams were one of the leading glass manufacturers in England towards the end of the 19th Century and Joshua Hodgetts one of their engravers. His work is recognizable by his distinctive floral engraving. Ht. 9 1/4".