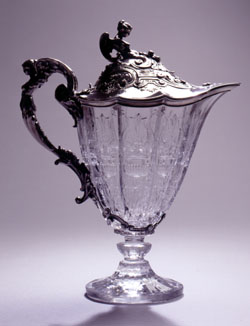 Jug #: 715 Origin: America
Date:1904
Artist/Maker: Tiffany/Farnham
Type/Style: Cut Glass

Silver mounted crystal antique Claret Jug designed for Tiffany & Co., by George Paulding Farnham, America, 1904. The overall shape, the silver mounts and the designs carved into the crystal are inspired from the Renaissance, an influence that Farnham kept returning to throughout his career. Only lead oxide from the Harz Mountains in Germany and silica found in the forests of Fontainebleu, France, were considered of sufficient purity for these objects. The resulting glass was whiter in color and more brillant than domestic lead glass. Though the Jug was published in 1906 in "Studio International", a contemporary art design magazine of the period, the pattern number stamped on the inside rim, 16191-1780 dates the piece between January 1, 1904 and December 31, 1904. Ht. 11 1/2".