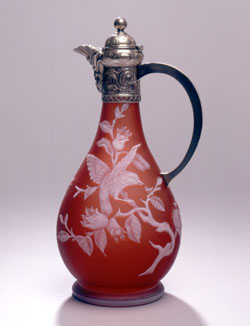 Jug #: 720 Origin: England
Date: 1884
Artist/Maker:John Goffe and Son
Type/Style: Cameo/Ceramic

Victorian silver mounted cameo glass Claret Jug. The silver mount chased with scrolls and Acanthus leaves, the spout a cast head of Baccus. Birmingham, 1884. Cameo glass was inspired from Wedgewood's technique on porcelain, and became very popular. This glass almost certainly made by Thomas Webb. Ht. 10 1/4".