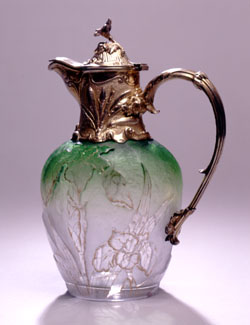 Jug #: 728 Origin: America/France
Date: 1900
Artist/Maker:Gorham/Daum
Type/Style: Cased Glass

A silver gilt mounted Claret Jug by Gorham, Circa 1900. The glass body, imported from France, is signed "Daum, Nancy". The glass is tinted emerald green at the shoulder and progressively fades to "clear" at the foot. It is carved, to leave in relief, flowering Irises which are edged in gold leaf. The mount is embossed at the neck with Irises still in bud and the lid has a flowering bud finial. Ht. 9".