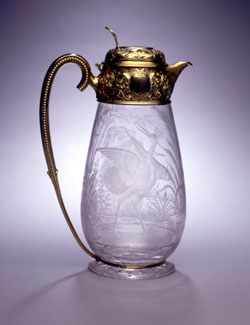 Jug #: 732 Origin: England
Date: 1853
Artist/Maker:W & G Sissons
Type/Style: Engraved

Victorian silver gilt mounted Claret Jug, Sheffield, 1853. Engraved with a scene of herons amongst bulrushes. The lid is engraved with the arms of the City of London. The Japanese Blue Heron was a very popular Motif with the Victorians. Ht: 10 3/4".