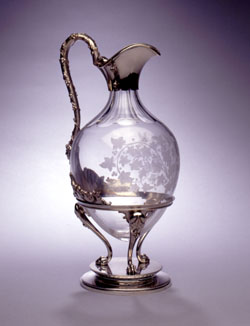 Jug #: 743 Origin: America
Date: 1865
Artist/Maker:Tiffany
Type/Style: Engraved

American silver mounted dessert wine jug with six matching glasses, circa 1865. The glass is engraved with a broad flowering ivy cartouch with a heraldic crest in the center (ditto glasses). The handle of the jug and the stems of the glasses are applied with cast flowering ivy garland. Ht: 11 1/4" (Claret Jug); Ht: 4 3/4" (Glasses).