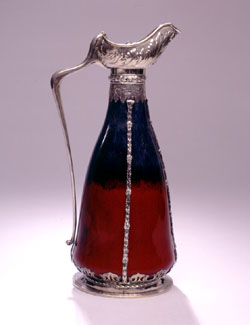 Jug #: 831 Origin: England
Date:1907
Artist/Maker:Bernard Moore
Type/Style: Cameo/Ceramic

Silver mounted ceramic Claret Jug by The Duchess of Sutherland's Cripples Guild, Birmingham, 1907. The ceramic body is by the eminent ceramicist Bernard Moore (1850 - 1935) and is considered in many ways to be a superior example to any of the pieces he gave and/or left to the British Museum. In one single piece, it manages to incorporate two things he spent much of his life striving to perfect - the Oriental rich red Sang de Boeuf glaze and a deep, almost cobalt blue glow 'cracked ice' glaze. The silver mounts are by Francis Arthur Edwards who worked with Bernard Moore at the Guild. Ht. 12-3/4".