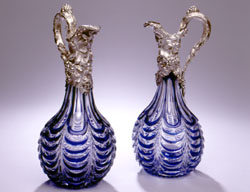 Jug #: 843 Origin: England
Date:1841
Artist/Maker:Charles Fox
Type/Style:Antiquity & Cased Glass

Matched pair of Victorian silver mounted blue overlay glass Claret Jugs, London, 1840. The "cased" glass bodies were probably imported from France or Austro-Hungary as it was not until about 1845 that cased glass is recorded as manufactured in England. Ht. 12 1/2".