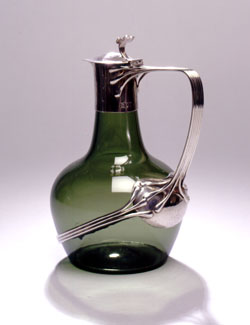 Jug #: 852 Origin: England
Date:1903
Artist/Maker:Charles Robert Ashbee
Type/Style:Arts & Craft

A Guild of Handicraft Ltd. Silver mounted decanter designed by Charles Robert Ashbee. The whitefriars green glass of ovoid form with slender, tapering neck mounted with hinged collar and cover, with sweeping sinuous handle and hinged brace. The cover mounted with tripartite finial, London, 1903. Cover incised 5070; Ht. 8 1/4".