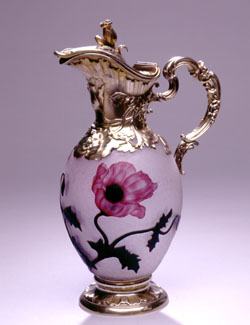 Jug #: 860 Origin: France
Date:1895
Artist/Maker:Daum/IP
Type/Style:Cased Glass

French silver gilt mounted Claret Jug with floral motif, signed by Daum, Marker's mark IP, France, Circa 1895. The triple layer of cameo glass, white, green and red is most unusual, as most surviving examples seem to have only two colors which are then edged with applied gilt decoration. Ht. 12 1/4".