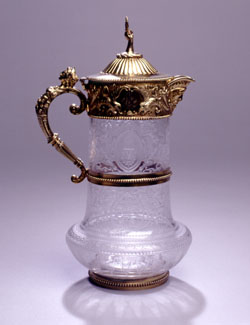 Jug #: 866 Origin: England
Date:1869
Artist/Maker:Sissons, William & George
Type/Style:Engraved

Victorian silver gilt and glass Claret Jug by W. & G. Sissons, Sheffield, 1869. The copper wheel engraving is almost certainly by a Bohemian engraver named Schiller who worked for Stevens and Williams between 1860 and 1876. The finial of the jug is the family crest which is repeated by engraving on the glass below which are the original owner's initials, all within the pointed oval cartouche on the side of the glass. The engraved mythical 'winged dolphins' on the glass (one of which can clearly be seen just above the waist of the glass) are repeated in the decoration of the upper mount. The handle is formed as a demi-carryatid. Ht. 11 1/4".