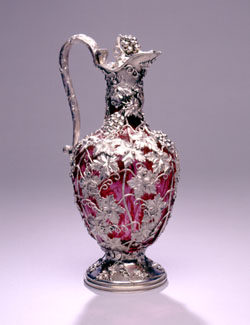 Jug #: 870 Origin: England
Date:1840
Artist/Maker:Reily & Storer
Type/Style:Colored

A silver mounted pale ruby glass Claret Jug, London, 1840. The pale ruby glass is encased in a naturalistic design of cast and chased fruiting vines. This style was popular from about 1830 onwards and was the artistic 'antidote' to the more formal and rigid "Pompeian grandeur" of the Neoclassical Revival period that preceded it. It was also remarkably suited to decorating Claret Jugs. Ht. 11 3/4".