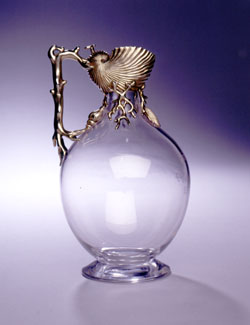 Jug #: 878 Origin: England
Date:1882
Artist/Maker:Edward H. Stockwell
Type/Style:Novelty

A silver gilt and glass Claret Jug by Edward H. Stockwell, London, 1882. The Jug is engraved on the lid with Francis Lakin's initials and "Xmas 1882" on the body "From Her Royal Highness, The Princess of Wales, 1882." It is contained in its original leather case stamped with the retailer's mark of Clark, 20 Old Bond Street. The lid of the Jug is also encraved with the retailer's mark and the address. Provenance: The Princess of Wales, wife of the future King Edward VII, presented this decanter to Francis Lakin, Royal Physician to Queen Victoria, Edward VII and George V, for Christmas 1882 as a token of thanks for the many medical services he had rendered to the Royal Family over the years. Francis Lakin was present on a panel of physicians when Edward VII underwent an operation for appendicitis, then a very new surgical intervention. The jug was later handed down through the Lakin family to his Granddaughter, who in 1940 bequeathed it to her friend, Mrs. Zoe Taylor, who was a very close friend of General Smuts.
Mrs. Taylor presented the decanter to the General Smuts War Veterans Foundation suggesting that it be sold for the funds being collected to purchase and restore the big house at Doornkloof, Irene. Ht. 8".