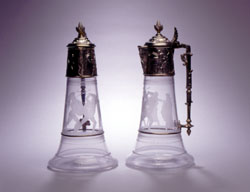 Jug #: 879 Origin: England
Date:1875
Artist/Maker: Frederick Elkington
Type/Style:Acid Etched

A pair of Victorian part gilt Claret Jugs by Elkington, England, 1875. The jugs are stylistically pure "Greek Revival" which was the height of fashion for this period. The acid etched glass depicts Greek Gods in the Greco Roman Revival style. Ht. 11".